FREQUENTLY ASKED QUESTIONS

Participant Portal

How do I login to MyTour Portal?
How do I set up or activate MyTour Portal account?
Select from the drop down menu, located in the center of the page, "I am a: Participant" and click next.

*If you have more than one child traveling or if you are traveling with your child, you have the option to choose a "Manage Multiple Participants" Account. Users with a "Manage Multiple Participants" account will not be able to activate a MyTourFund account.

Enter your Trip Number and Participant ID and click next. If you need help locating these numbers, contact your Tour Director or our Customer Service Department.
Once you enter this information your name should appear on the screen.
Confirm or change your email address and create your password.
For further assistance, view this How-to Guide.
When I login I see information from a past trip, what should I do?
If you are accessing information from an older trip, contact our customer service at: (866) 543-9625 or info@sta-mail.com
How do I change my password?
You can change your password by clicking "Account" on the left side navigation bar inside your Portal Account.
I've lost my password. How do I reset it?
Visit the login page of the portal. Below the login button, click "Lost Password?" and enter your email address associated with your portal account. You will receive an email with a link to reset your password.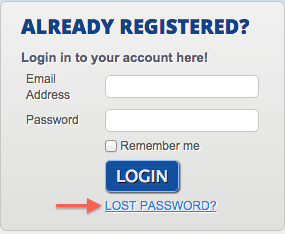 I have a question about my payments, who should I contact?
For questions concerning your billing or payment history contact: billing@sta-mail.com or (866) 543-9625
I just made a payment, why is it not showing up on MyTour Portal Payment History?
Our system requires at least 48 hours for it to update. If your payment is not showing within this 48 hour time frame, please contact our Customer Service Department at (866) 543-9625 or billing@sta-mail.com. Non Business Days do not apply.
Can I set up a MyTourFund?
Once you've activated your MyTour Portal account, click the MyTourFund "Get Started Now" button on your dashboard or visit www.mytourfund.com.
Click "Login" and enter your MyTour Portal user and password information.
For help setting up a MyTourFund account and webpage view this How-to Guide.
How do I report an issue regarding MyTour Portal?
If you have a Technical issue contact: lacy@sta-mail.com
If you have a question concerning your trip: Contact your Tour Director