MAKE THE MOST OF YOUR TOUR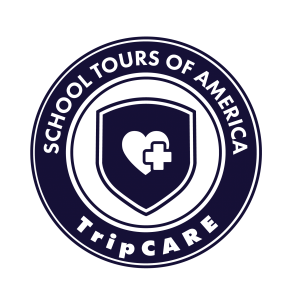 TripCARE
STA has the plan! You can travel confidently with TripCARE; our proven, proprietary travel system that keeps your group safe while you enjoy the experience of a lifetime! While some tour operators struggled, we have been operating safe, amazing trips since the spring of 2021. Click to find out more here.
RELATIONSHIPS
Our loyal group leaders are more than clients, they're also family. We were there for each other during these really challenging times. Some companies filed for bankruptcy or gave no refunds during COVID. But we trusted our groups and they have trusted us. Now we are traveling again – TOGETHER. You are not a "number" with STA. We are employee-owned, and teacher focused.
Personal Tour Coordinator
Experienced insider who crafts your perfect trip.
Flexible Accounting
We handle the money for you, offering convenient payment plans and NO LATE FEES to families!
MyTour Portal
Intuitive, online dashboard to manage your trip.
Educators Travel Free
Your tour is completely FREE with as few as 10 paying participants! For every additional 10 students, a chaperone of your choice also travels free.
Scholarship & Personal Travel Bonus
Automatically accrue Travel Bucks while you tour! Travel Bucks are credits that can be redeemed as tour scholarships for students or personal air travel for you. You decide how to spend your bucks and we'll take care of the details.
Free Graduate Credit / CEUs
We proudly partner with Adams State University to offer you free graduate credit or continuing education units (CEUs.) As a Group Leader, you and your chaperones are eligible with a minimum number of paying participants.
Referral Rewards
Earn cash when you share your travel experience with interested colleagues. Our secret to success has always been based on providing the best tour and customer service possible which makes it easy for you to spread the word. You earn cash when they travel; it couldn't be easier!
Tour Before You Lead
First time leading a tour? Gain confidence by touring with an experienced Group Leader on their trip before leading your own. Our Travel Buddy Program gives you the opportunity to witness first-hand just how easy it is to be a School Tours of America Group Leader!
PRICE
We all want the best price for our groups. And we all know that some companies will show a low price at first, but what is the real cost? Our value-driven all-inclusive programs will give you a great price, and an even greater value. It's not just the price, it's also the reputation and credibility as you sponsor a trip. STA is the name teachers trust for the best value in the industry, and the best trip for your students.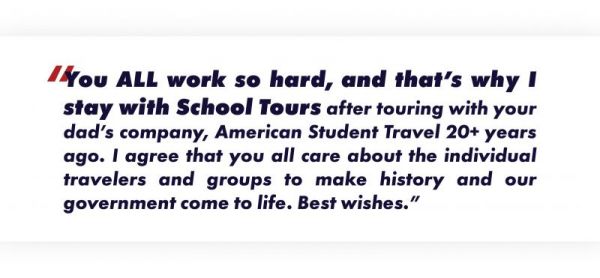 HOW WE EXCEL AS TRIP PLANNERS

We're parents and former educators, so we understand what it takes to provide the best care possible for our teachers, parents and students.
We're proud to be family owned and operated here in the States
Tour planners average over 21 years of experience
Pre-booked appointments to avoid long lines
Tours customized to fit each group's unique needs
Quality, centrally-located hotels near tour sites
Master Guides specializing in educating youth
WE'RE A TOP WORKPLACE



AWARDED BY THE HOUSTON CHRONICLE




Read why School Tours is a great place to work
READ NOW