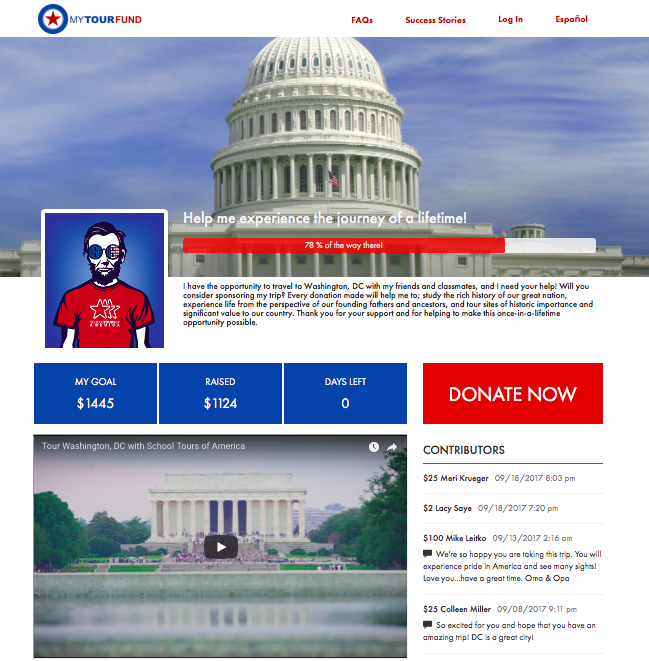 Get your trip started on the right foot with our Revolutionary Fundraising Tool that utilizes the power of Social Media!
Unlike traditional fundraising where you sell candy, wrapping paper, and/or candles and only receive a portion of the proceeds, MyTour Fund is a FREE platform to use AND...Every Donation goes towards your trip costs!
Check Out an Example MyTour Fund Page Here
It's as easy as 1-2-3
more fundraising resources
Congratulations on your decision to participate in this vitally important educational adventure! You will be amazed at how your family, friends, neighbors and even local businesses will rally when it comes to sending students on this life-changing trip. The key to success is to get started right away.
The section below provides info & tips for getting your fundraising projects going:
Ask for the Gift of Education
The most successful fund raising technique begins at home. The majority of our students have found success using the gift of education envelopes & letters. Use the following templates for drafting your own personalized gift of education letter or ask your teacher for the envelopes. Mail to family & friends requesting donations toward your trip price in lieu of birthday, holiday or graduation gifts.
fundraising companies
While School Tours of America does not endorse any particular fundraising company, we have compiled a list of popular companies used by many of our clients in their fundraising efforts.
Fundraising Corner
Fundraising Corner
Congratulations on your decision to participate in this vitally important educational adventure! You will be amazed at how your family, friends, neighbors and even local businesses will rally when it comes to sending students on this life-changing trip. The key to success is to get started right away. Our staff has three decades of witnessing successful fundraising and has developed this page to share their experience and tips.
Food, Chocolate, Coffee and Tea
Collecting- Labels, Tops, more..
Fundraising Tips and Ideas
Fundraising not only offsets the trip costs, it instills a sense of ownership and responsibility that will enhance a student's appreciation for the experience. The following is a list of successful fundraising ideas we have seen work over the years as well as a collection of excellent articles on the keys to successful fundraising.
School Tours of America does not promote or endorse any particular company. The following list is for informational purposes only.
Ideas and Opportunity links
Fundraising Tips- for Groups
Traditional Bake Sale
Sponsor a Spaghetti Feed
Bake Pizzas (pizza supplies)
Create A Recipe Book
Raffle Something Cool
Craft Fair
Talent Show
Garage / Yard Sales (group)
Car Wash
Hold a Marathon

Walk-a-thon
Read-a-thon
Grade-a-thon (kids get $ for every A,B…)

Restaurant sponsored Group/School Night

Ask a Local Restaurant to donate a night where all proceeds are given to the group.

Ask for donations of 'Loose Change'.
Remove and recycle Christmas trees
Penny or Coin Drives

Participants guess how many pennies are in a jar.

Offer a Parents Night Out/ Baby-sitting service.
Fun/Unusual contests such as a "Break the Record" contest or "Guess Who's Legs" contest. Raise money by charging for an entry fee and charging per vote.
Fundraising Tips- for Students
After School or Summer Jobs:
Delivering a paper route
Babysitting
Work at a Latch key or after school program
Work at a Summer Camp
Work for your parents
Tutor younger students
Other Ideas:
Do chores around the house
Wrap presents for family and friends during the holiday season
Take care of a neighbors House, Pets, Mail when they travel.
Yard Work, Rake Leaves, Mow Lawns, Shovel Snow
Scholarships & Grants
Scholarships & Grants
There are many organizations that offer student scholarships for educational travel based upon need and merit. School Tours of America is always looking for available scholarships or grants and will share them here along with our suggestions and other resources on how to best acquire these funds
Jan Wright Memorial Scholarship
The staff of School Tours of America have established this scholarship in memory of our beloved friend & educational tour pioneer. This scholarship of up to $500 is awarded to a deserving student based on financial need, merit & must be nominated by a Tour Director.
Scholarships for Students
A variety of non-profit organizations such as the Student Youth Tour Association (www.syta.org) have scholarships for deserving students.
More Scholarship information
Road Scholarship


The Program awards funds to youth who, for various reasons are unable to afford the cost of their group's educational travel. visit website

National Youth Day Out

The National Youth Day Out program provides a one-day travel experience for deserving classes around the United States and Canada. visit website

Silver Lining Program

This program recognizes deserving high school students who have demonstrated through their action, intention, or circumstance the desire to expand their awareness, creating a dramatic life change. visit website
Corporate Grants & Grant Programs
A number of national companies have established grants for travel and education. These grants are generally awarded to a group and thus require the Tour Director or Teacher to apply. Please review each program for guidelines and requirements.
Corporate Grants for Student Travel
Verizon Foundation The Verizon Foundation offers teachers grants to promote literacy and fund educational causes. visit website
Target Field Trip Grant
As part of the Target commitment to education, our one-of-a-kind, innovative Target Field Trip Grants program will award as many as 5,000 educators' grants of up to $800 each to fund a student field trip. visit website
Grant Programs
Grant Wrangler: Grant Wrangler is a free online listing service of grants and awards for K-12 teachers. New fundraising opportunities are posted frequently, and educators can sign up for a bi-weekly newsletter announcing the latest grants and awards. Find out more about Grant Wrangler
Tips for Grant Apps. & Grant Search Engines
We have compiled a list of helpful articles on how to best apply for grant funds as well as search engines to assist in finding new grants. Additionally, please contact our Fundraising & Grant Specialist to learn other valuable funding tips.